BinariesBaseController Class Reference
[Binaries]
Defines a view route for binaries. More...
Inheritance diagram for BinariesBaseController: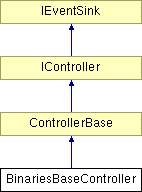 Public Member Functions

action_binaries_view ($page_data, $id)
Show binary.

before_action ()
Activates includes before action to reduce cache memory.

get_routes ()
Return array of IDispatchToken this controller takes responsability.


Protected Member Functions

get_route_decorators ()
Return Decorators for binaries routes.

---
Detailed Description
Defines a view route for binaries.
Author:

Gerd Riesselmann
Definition at line 8 of file binaries.basecontroller.php.
---
Member Function Documentation
BinariesBaseController::action_binaries_view
(
$
page_data,
$
id
)
| | | | | |
| --- | --- | --- | --- | --- |
| BinariesBaseController::before_action | ( | | ) | |
| | | | | |
| --- | --- | --- | --- | --- |
| BinariesBaseController::get_route_decorators | ( | | ) | [protected] |
| | | | | |
| --- | --- | --- | --- | --- |
| BinariesBaseController::get_routes | ( | | ) | |
---
The documentation for this class was generated from the following file: